Establishing an AFTD Named Fund is a powerful way to remember a loved one's legacy. These generous gifts help families affected by FTD today and create hope for a better understanding of FTD tomorrow.
AFTD Named Funds are term funds; they exist for one year and can be renewed annually with additional gifts. A Named Fund can be started with a minimum individual donation of $25,000.
Your gift can be designated as unrestricted-supporting the entirety of our growing organization's mission. It can also be designated to support research, drug discovery, or caregiver support.
Most of all, named funds honor and remember loved ones. For more information on establishing a named fund contact Ben Freeman at development@theaftd.org, or call us at 267-514-7221.
Established AFTD Named Funds
The Jackie Pang Memorial Fund
When Jackie Pang became quiet, withdrawn, and "just not herself," the family thought it might be related to stress or depression. With no family history of dementia, Jackie's February 2017 diagnosis of behavioral variant FTD came as a complete shock. Jackie was 60 years old, and her 22-year career as a kindergarten teacher was brought to an unexpected early end.
The Pang and Torres family made it their mission to learn as much as they could about FTD and began fundraising through the AFTD Philadelphia Marathon and the Food for Thought events. AFTD became an invaluable resource in helping the family through Jackie's battle with FTD. Jackie passed away at home on April 24, 2020. She had a passion for helping others and the family has established this Fund at AFTD in tribute to her. It is dedicated to Caregiver Support, so that, when families learn of an FTD diagnosis, they have access to the help and resources they need to navigate this journey.
The Holloway Fund for Help and Hope in Honor of Lee Holloway
The Holloway Fund for Help and Hope was created to help individuals and families who have been impacted by an FTD diagnosis. Our goal is to fund research and provide resources to lighten the burden of living with FTD and bring us closer to a future without this disease. My husband Lee was a gifted, brilliant pioneer in the technology industry and one of the founders of the security, performance, and reliability company Cloudflare. He was diagnosed with behavior variant FTD in April 2017.
Lee was the most generous, humble man who loved nothing more than his family, especially his two young boys. To honor his spirit, his family and I have established a strong legacy of love and compassion as we continue to care for him during these difficult years of his life. Knowing the full scope of the struggles families face in having to care for a loved one with FTD, it is our hope that this fund can help others as they navigate the challenging road ahead. Given Lee's contributions to the world of technology, it is critical that this fund also focus on supporting cutting-edge technology, research and advancement in FTD treatment so that we can one day live in a world where FTD is no longer a diagnosis so many must endure.
From earlier and proper diagnosis, to ultimately finding a cure for this heartbreaking and terrible disease, we wanted to honor Mimi's legacy in a way that reflected her own display of generosity, love and caring for others. By name she was Monica Garber, to most she was "Mimi," but to everyone who had the opportunity to have met her, she was far, far more. She was a superhuman mother, caring grandmother, loving wife and amazing sister… a lifelong, loyal friend. She was diagnosed with FTD at 59, and departed from us far too early at the age of 63. FTD robbed our family and this world of a uniquely special soul.
Mimi would always look for answers, and give as much as she could to help others, so we are directing this fund at FTD research. We made a promise to her that we would forever do our best to find the answers and steadfastly remain hopeful, not just for our loved ones with FTD, but for everyone who is a caregiver, family member and friend, whose lives are forever altered by this disease. For as long as we can, we will be funding The Mimi Fund every year, twice a year, on the anniversary of her birthday and her passing.
One of our favorite quotes that encapsulated Mimi's spirit best:
"If I can stop one heart from breaking, I shall not live in vain;
If I can ease one life the aching, or cool one pain,
Or help one fainting robin unto his nest again,
I shall not live in vain." – Emily Dickinson
Shepherd/Stowell Fund In Honor of Care Partners
This fund supports AFTD's mission and was created in honor of Care Partners and Caregivers throughout the world.
Whether it's facing challenges of FTD on a daily basis, or coping with the loss of a loved one, the strength, compassion, and resolve of these individuals creates hope for a future without this disease.
We pay tribute to all Care Partners and Caregivers, and join them in bringing Help & Hope to all who are affected by FTD.
The Dr. Lawrence Albert Memorial Fund
My father was a man who valued intellect, "animated" discussion and science. He adored playing chamber music, standard poodles, skiing, hiking, martinis, politics, tennis and groan-inducing puns. Above all, he adored his family. He was not one to talk about feelings, and the primary emotion he could express as he sank deeper into his illness (PPA/primary progressive aphasia) was rage.
To take away language and then cognitive skills was beyond cruel, especially for a man like my father. The kind of thing that could blow a family apart. But it didn't. With the always available help and support of AFTD, Larry's wife, children, grandchildren and great-grandchildren rallied round him and tried to give him the best quality of life they could.
"We will be forever indebted to the wonderful ongoing work of Susan Dickinson and the AFTD team. Cheers, Daddy!"
When his battle ended in 2011, we buried him with a martini shaker and his beloved Captain Lawrence Beer baseball cap. He was smartly attired in his blue blazer, bow-tie and khaki pants, his uniform. Before and after his death, we became passionate about working towards finding effective treatments and, someday, a cure for FTD. Our focus has been on helping to fund research and provide learning opportunities for professionals in the field. This is our way of creating the perfect tribute to the very logical, science-oriented man that Larry was.
Michael E. Fenoglio, MD Memorial Fund
Equal to his passion for medicine was his passion for life. While his life was cut short with the disease of FTD, it was well lived. He shared that zest and love for life with family and friends.Mike was a well-respected general surgeon and above all a loving husband, father, son, brother, uncle and friend.  After a 6-year battle with FTD, we lost Mike at the age of 57. He was considered the "patient's doctor" with his unwavering dedication and tender loving care. He had an amazing sense of humor and an infectious laugh. He believed laughter and the human spirit were as much a part of healing as science and technology, often sharing his wit, jokes, and laughter with his patients, family and friends.
In hope of continuing his passion for helping others, we are creating this named fund, helping to fund research and hope of realizing AFTD's mission where FTD is understood, adequately diagnosed, treated, cured and ultimately prevented.
Kevin M. Harvey Memorial Fund
The FTD journey is one of sadness, loneliness, heartache and despair. My husband Kevin was diagnosed in 2007 and passed away in 2012 at the age of 57.
Kevin was well-loved by all that were fortunate enough to have known him. His work ethics were admired, his athletic talents envied, and friendship relished.
Strength, courage, determination, and perseverance were redefined. My children and I knew that we needed to provide a new way of life for Kevin, one with the dignity and respect he so rightly deserved.
Our lives had changed, our love had not. It is with that love that I, our children, and grandchildren establish in loving memory of Kevin, The Kevin M. Harvey Memorial Fund.
My family and I commend the AFTD's mission and dedication to educate, advocate, promote, and support those diagnosed with FTD, as well as their families and caregivers. We are proud to be a joining force with that commitment.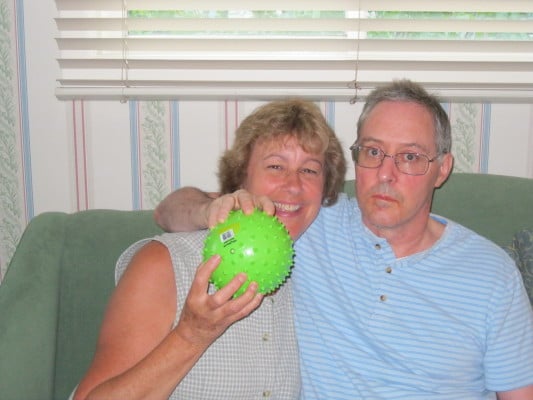 Susan Marcus Memorial Fund
This was AFTD's first named fund, established by Lawrence and Jillian Marcus Neubauer, Aimee and Mathew Marcus and Barry Marcus in support of translational research.
The Susan Marcus Memorial Fund will underwrite a pilot grant program in translational research, and for the first time will enable AFTD to award two pilot grants.
"AFTD was very important to us as we sought information about FTD clinical trials as well as advice on Mom's care," said Jillian Marcus Neubauer. "And now we are pleased to be able to partner with AFTD to fund research so that future families will have options for diagnosis and treatment that we did not."
The Laden family has set up the Laden Memorial Fund in memory of Ben E. Laden.
Dr. Ben E. Laden grew up in South Carolina. After graduating from Princeton University with an AB in Math, and from Johns Hopkins with a Ph.D. in Economics, he joined the faculty of Ohio State University, living in Columbus Ohio for four years before moving to Washington, D.C. Ben had a successful career as a business economist working at the Federal Reserve Board, at T Rowe Price where he was Chief Economist for 14 years and at the U.S. Department of Housing and Urban Development. He was also President of the National Association of Business Economists for two years. Most importantly he was a proud and loving husband, father, brother, son and grandfather. Unfortunately, FTD destroyed his life before he was able to fully enjoy his grandchildren.
"There is no better use for this contribution. The work that AFTD is doing in terms of research support, advocacy, caregiver support and education is truly inspirational. We are proud and honored to be part of the solution." Susan Laden
This fund honors Susan Marley Newhouse. As her language failed her, she didn't need words to make herself understood. Her kindness, generosity and high spirits made everyone she met feel good and to this day her smile lights up a room!
The Mike Walter Catalyst Fund
"After my husband Mike passed away in 2006, I made a promise to continue to search for answers about the disease that took his life while he was with us and upon his passing. I thought originally the reason for that promise was about him and my love for him. But I was wrong. It's about the ones that come after, our children, our grandchildren and the countless others who are searching for answers."
The Walter family has created a legacy of supporting research with its individual family member participation, and supporting AFTD's mission to bring help and hope to families on this journey. Now, the family is leveraging its dollars to foster change and participation in AFTD's mission by establishing The Mike Walter Catalyst Fund. The family hopes that others will join in their efforts to bring forward a world with compassionate care, effective support, and a future free of FTD.
Beth Walter, President, Walter Charitable Fund, 2010-2013 AFTD Board Chair, and AFTD Board Member.