Giving a Hand to Our Helping Hands! AFTD Volunteer Marc Toles
A former caregiver to his wife, Marc Toles (MI) wanted to give meaning to what he and his family went through during their FTD journey. After his wife passed away, he resolved to help others facing FTD – and begin his own healing process — by becoming an AFTD volunteer.
Marc has been a standout volunteer for the past year and a half, taking on a variety of impactful roles that address AFTD's mission, from providing support as an AFTD-affiliated Support Group Volunteer to raising awareness through various outreach efforts. AFTD is grateful for his volunteer service. In his own words, Marc shares his experience as an AFTD volunteer.
How has your experience as a volunteer made you feel?
There is a real sense of peace and accomplishment that comes from seeing people "get it" after I've presented information to them.
Please tell us a little bit about the support you've received from AFTD as a volunteer.
In a word, tremendous. As an organization AFTD makes itself available for support, guidance, information, and especially encouragement and gratitude.
What is the most fulfilling/rewarding part of volunteering?
Knowing that, in my own small way, I AM making a difference.
What would you tell someone considering volunteering with AFTD?
If you are looking to find support, gratitude and meaning in doing volunteer work, you've come to the right place.
AFTD Education Program Manager Deena Chisholm has worked directly with Marc and has seen firsthand how he has worked to bring hope to others on this journey. "AFTD celebrates selfless individuals like Marc, who channel their civic virtues through volunteerism and devoted to a cause bigger than themselves," she said. "Marc helps to drive AFTD's progress towards a future free of FTD."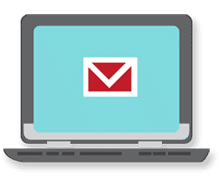 Sign up now and stay on top of the latest with our newsletter, event alerts, and more…