Cornell University Researchers Explore Role of TMEM106B Gene in Neurodegeneration
In trying to better understand the factors that drive neurodegeneration, researchers at Cornell University point to a gene that offers insights into the cause of FTD and other neurodegenerative diseases.
Researcher Fenghua Hu, PhD, an associate professor in the Cornell Department of Molecular Biology and Genetics and a former AFTD Pilot Grant recipient, recently published new insights into the TMEM106B gene, which has been known to play a role in both FTD and Alzheimer's disease. When affected by a particular mutation, the gene can create a defect that results in the loss of myelin, a fatty tissue that wraps around nerve fibers to protect them from damage, leading to the deterioration of both motor skills and mental activity.
In her study, Dr. Hu sought to identify exactly how that one mutation in TMEM106B could cause so much damage, and to learn more about how the gene regulates the creation of myelin under normal conditions. Her findings point to new insights into the gene's role in neurodegeneration and sets the groundwork for additional studies into the exact mechanisms by which mutations can lead to defects.
"I hope that our research can facilitate therapeutic development of treatment options for patients suffering from neurodegenerative diseases and other brain disorders," Dr. Hu told the Cornell Chronicle.
The research was funded in-part by the Bluefield Project to Cure FTD, a nonprofit research foundation focused on finding therapeutics for FTD caused by mutations in the progranulin gene. The organization received a major funding investment last fall on behalf of a partnership between AFTD and the Alzheimer's Drug Discovery Foundation (ADDF) to accelerate the development of an exploratory blood test to help accelerate clinical trials for new FTD therapies.
To read more about Dr. Hu's findings, click here.
Pictured above: A microscopic image showing the myelin sheath, a fatty tissue that insulates and protects neurons, in a healthy mouse brain.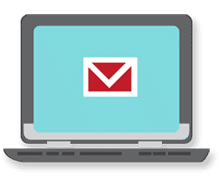 Sign up now and stay on top of the latest with our newsletter, event alerts, and more…